Functions and Services
HELP [Help system for Emergency Life saving and Public safety]
The Help system for Emergency Life saving and Public safety assist emergency vehicles including police cars, ambulances, and road service vehicles to conduct prompt rescue activities.
The HELP immediately report location information to rescue organizations in the case of an emergency such as traffic accidents, vehicle breakdowns, and sudden illness.
Main Benefits
Reduce time to call initiation
Reduce the number of fatalities in traffic accidents
Minimize serious injuries
Prevent secondary accidents
Alleviate traffic congestion
System Configuration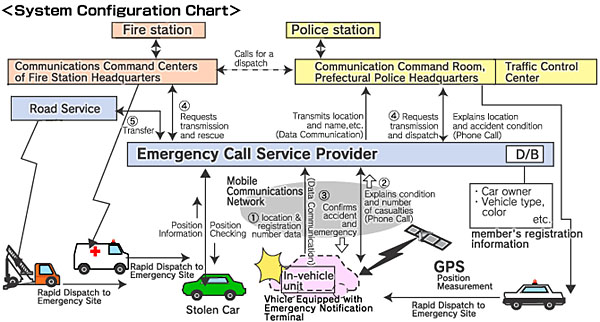 Transmits vehicle location, registration number data, etc. to the HELP Center.
Explains condition and number of casualties by verbal communication.
The HELP Center confirms accident/emergency situations.
Explains position and condition of accident to police and fire stations. Calls for emergency assistance. At the same time, sends additional information and transfers the reporter's phone call to the police and fire station, which then communicates directly with the reporter.
Calls for road service according to the reporter's request in the case that the accident vehicle requires repair.

Applicable also for busjack situation.
Applicable also to quickly find stolen vehicles.